Your company uses Personio? These are the steps you need to follow to import the member's list:
STEP 1 - DOWNLOAD THE CSV
Go to Personio Employees list. Make sure you are listing all employees.
If you have a department, office or any other filter select only these will be in the CSV.
Then, click on the Export option.
On the Export Employees screen, choose the CSV format and filter all employees.
(
All employees
ensure that various pages are included in the CSV. But it still considers the filters you selected previously in the list.)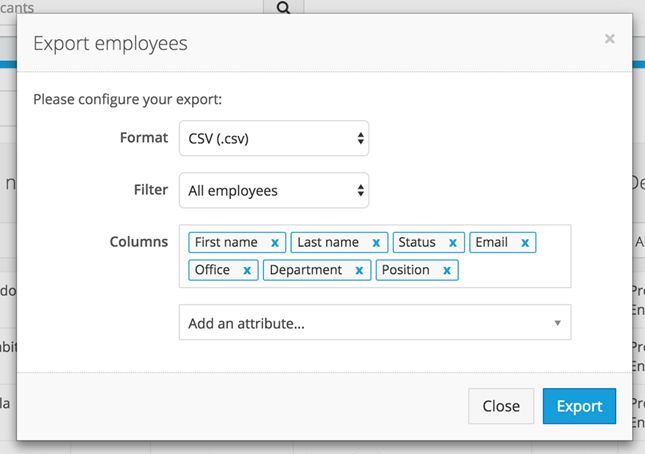 NOTE:
After download, DO NOT OPEN/EDIT WITH EXCEL.
If you experience encoding problems or missing headers when in the Wellbeing Warrior, it most likely means the file was messed up after downloading and became an invalid CSV.
Excel as the tendency to not load CSVs properly. For using excel you need to use the import/export options with the correct settings. Otherwise, we will end up merging all columns into a single one and messing up the encoding of the file.
Summary: You should upload the file exactly as downloaded from Personio.
STEP 2 - UPLOAD IT TO THE WELLBEING WARRIOR
On the Administration area click on Members and then Import Members.


Here you choose the file you just downloaded.


[Optional] Enforce an email domain like "@YOU_ORGANIZATION.com". This will ignore emails from other domains like john@gmail.com (helpful when you have freelancers or external people with no company email and you want to exclude them already from the Wellbeing Warrior).
STEP 3 - CONFIRM AND PERFORM THE IMPORT
If everything went ok until here, you will find your upload at the end of the page.


If it still says processing or regenerating differences, just refresh the page.

Eventually, you will be able to see and press VIEW DIFFERENCE.
At this point, the file was not yet imported, but you can check exactly what will happen when it does.

If everything looks fine, click on PERFORM IMPORT.

(In this example, the only change since the last import is that miguel@organization.com is in a different department)